Release of Phraseanet 3.8
Paris, September 26th 2013
Hello,
Alchemy announces today the release of Phraseanet 3.8 !
This new major release provides a quicker access to all documents and interfaces, Phraseanet Report in particular.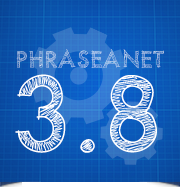 Here's a quick view of the new features…
*We've added support for plugins
*Login and Sign Up
Use your Google+, Viadeo, LinkedIn, Facebook, Twitter or GitHub account to sign up.
*Search engines
-This version adds support for stemming in the Phrasea Search Engine. So when you enter the term "poppy", documents indexed in the database with the term "poppies" will also be displayed in the results.
-Integration of the Sphinx Search Engine is now stable
*Email notifications
-They are now being sent in HTML
Customize templates and prefixes for the emails' subjects.
-TLS authentication support has been added when connecting to a mail server
*Baskets in Phraseanet Production
Delete a basket directly from the WorkZone
*Administration
-The interface has been redesigned
-The settings interface for the documentary fields has been rewritten. You can reorder the fields and translate the names of the documentary fields. It is also possible to translate the names of the collections, the databases and the status bits.
*Report
A new template of report on the documents sent by email has been added
*Possibility to script the Phraseanet setup
—
To download this new release, please visit our official website: https://www.phraseanet.com/en/download/
Here's a PDF document with the new features that you can print if necessary.
Free trial: Request your access to the online demo! Send us an email to: info@alchemy.fr
We hope that this new release will bring you useful features, feel free to give your feedback!
Best regards,
The Phraseanet Team